Sounds of tui, piwakawaka sing out
in Henderson
20 January 2020
A new sound installation has popped up in Henderson, bringing sounds of nature to urban spaces.
Crafted in the shape of hue (gourds), which were traditional water carriers, this sound installation embodies the essence of a time gone by while also acknowledging the present and the future.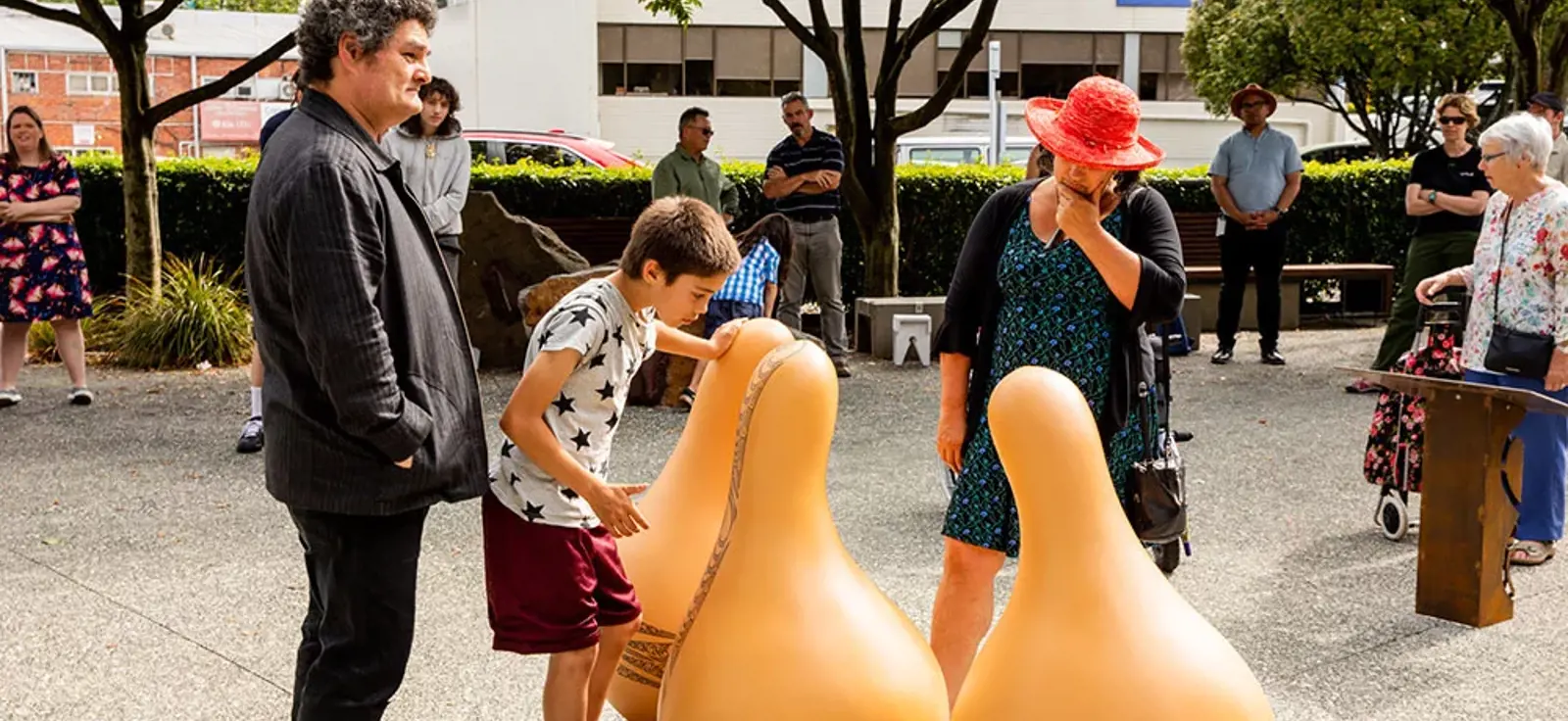 Native bird calls, which were once abundant in the area, are singing once again in Tāmaki Makaurau's urban eco-centre. Taonga puoro (flute tunes) along with the sound of water and wind bring depth to the composition that activates when people walk up to the installation.
Artist Riki Bennett explains his inspiration behind this project. "There are many stories in the Waitakere Ranges that we could tell. This story is based on Panuku and Parekura who was his wife.
"Panuku was a warrior chief based at Te Henga, Bethells Beach. People out there were well known for having awesome marakai, fruit gardens; they grew things like hue.
"At my first meeting with Panuku, I took along a couple of flutes and played them live. We were then asked to produce an art form that would support the sound, so we came up with using the hue.
"Some of the birds that we featured in this project are tui, recorded at different times of the day to capture the different calls that they make, kore maku, which is a bellbird, piwakawaka which is a fantail, also the sounds of the running stream.
"What we're trying to do is paint a picture with sound. We hope that we bring people who are listening in to the same picture we're experiencing."

Artist


Riki Bennett
Panuku's priority location director Richard Davison is delighted to support this project.
"These sculptures are a fantastic addition to Henderson's town centre. They really speak to the area's history and help enhance the mauri of the twin streams and, while it's just a temporary installation, we hope that this inspires people and brings them closer to nature, giving them a taste of what's to come as we kick off our urban regeneration programme in Henderson."
Waitakere Ward Councillors Linda Cooper and Shane Henderson are both very impressed with the project.
Henderson has always been an artistic place and is home to some of the most creative people in Auckland. So, it is no surprise that this wonderful piece of artwork has found a home here, it is a natural fit", says Councillor Cooper.
Councillor Henderson agrees. "This is a wonderful nod to the natural history of the area", he says. "The west has always been a place that loves the environment, so this couldn't be more appropriate."
This installation is a collaborative effort by Riki Bennett, Clem Larsen, John Collins, Phil Gregory, Abe Kunin, Terence Turner and Nick Walters with the support of Te Kawerau a Maki and Panuku Development Auckland.
You can find the installations in the square outside Waitakere Library, with more to be installed in Tui Glen Reserve and Corban Estate Arts Centre this year.