Stanmore Bay housing project helps deliver improved
natural habitat
06 April 2016
An underground stream in Stanmore Bay is to see daylight again and offer improved recreational use thanks to a partnership between Auckland Council and a housing developer.
The piped stream runs beneath D'Oyly Reserve, a 750m lawned space that currently offers very little ecological value and restricted use due to boggy conditions in winter.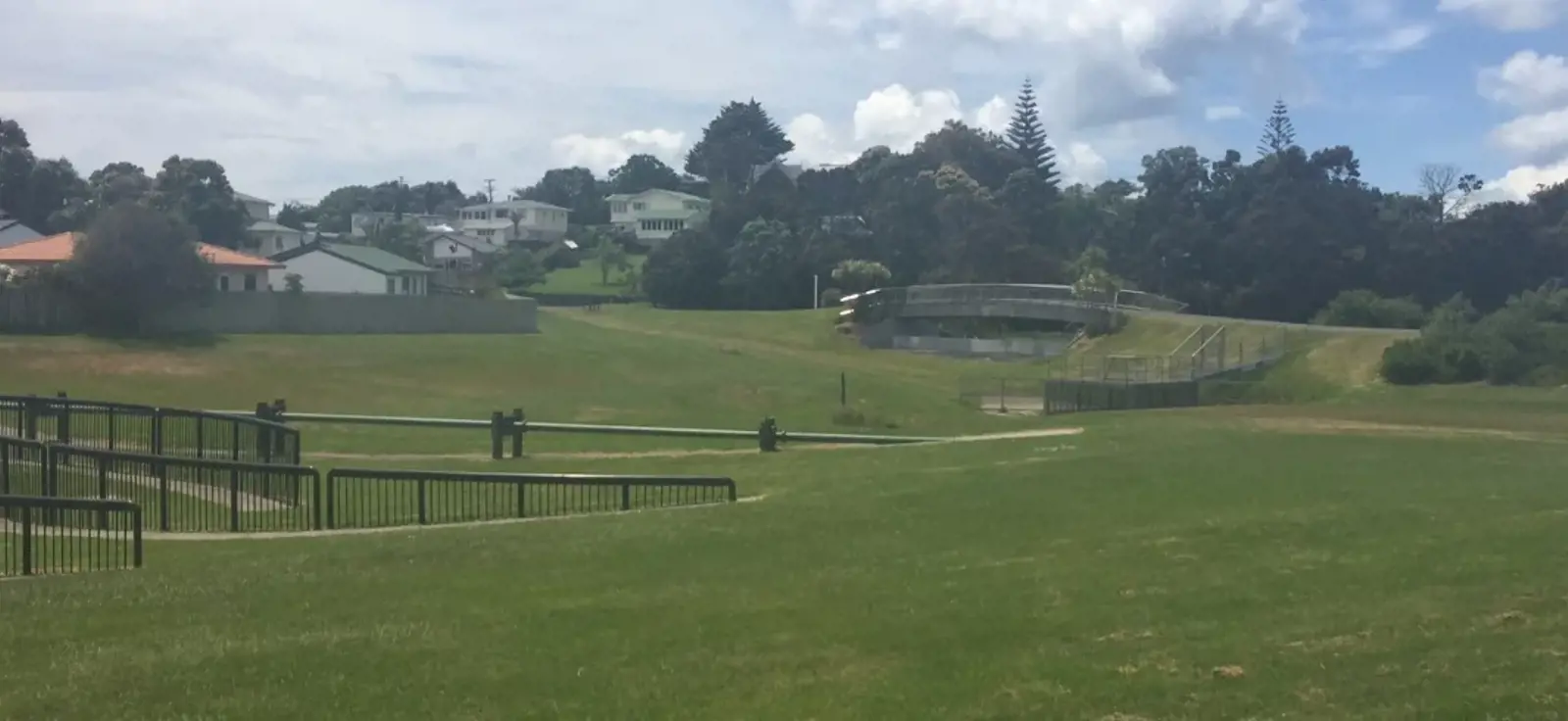 In a new project, 250m of the stream will be restored to a more natural state, and by doing so will support plant life, provide a habitat for birds and freshwater marine life and act as a natural filter to prevent pollutants from reaching the sea.
On top of the ecological benefits, the project also has huge potential in terms of offering a range of amenity and education opportunities including cycleways, lawn play areas, park 'furniture', outdoor classrooms, view points, and walkways.
Hibiscus Coast and Bays Local Board, Chairperson Julia Parfitt says the project is a great outcome that will add to the naturalisation of the area and allow the community to use the reserve all year round.
"With more and more people discovering the great lifestyle here in Whangaparaoa having improved access to open spaces and recreation is key. It's exciting to hear what's planned for D'Oyly reserve and we look forward to getting the local Stanmore Bay community involved with this important environment protection initiative."
The daylighting stream project has been made possible largely due to the fact it offers a solution to the need to mitigate potential loss of wetlands at a nearby development site where 60 houses are planned.
As a result, funds obtained from the developer, McConnell Property, for the development of the formerly Council-owned 20 Link Crescent site, will be contributed to the D'Oyly Reserve project.
Auckland Council General Manager Stormwater Craig McIlroy says projects like these highlight the benefits of taking an area wide view when it comes to mitigating the environmental impacts of development of particular sites.
"Too often we think of the preservation of our natural environment as being mutually exclusive with the provision of new homes and infrastructure to support a growing Auckland.
"The restoration of a stream and reinstatement of a habitat at D'Oyly Reserve and its links with the Link Crescent development shows this need not be the case by delivering a net gain in ecological function and stormwater treatment for the Stanmore Bay area."
Panuku Development Auckland Director of Development, Allan Young says the project is a great example of the benefits that can come from various parts of Council working together with a private developer.
"The challenge of dealing with the potential loss of wetland at 20 Link Crescent has been a key factor in how the development proceeded.
"It is extremely pleasing that all parties have come together to produce an outcome that will ensure the delivery of additional housing in a very tight market as well as an enhanced green space and waterway for the community to enjoy at D'Oyly Reserve in the process.
Designs are still progressing for the reserve enhancements and stream daylighting with a consultation exercise due to get underway soon with Stanmore Bay school, Hibiscus Coast Forest and Bird, and the wider community.