Stunning art piece – 'Papatūānuku' – comes to the
waterfront
20 December 2021
New mahi toi (artwork)
celebrating the flora, fauna and Māoritanga (Māori culture) of Tāmaki Makaurau has come to the waterfront, and we don't want you to miss it.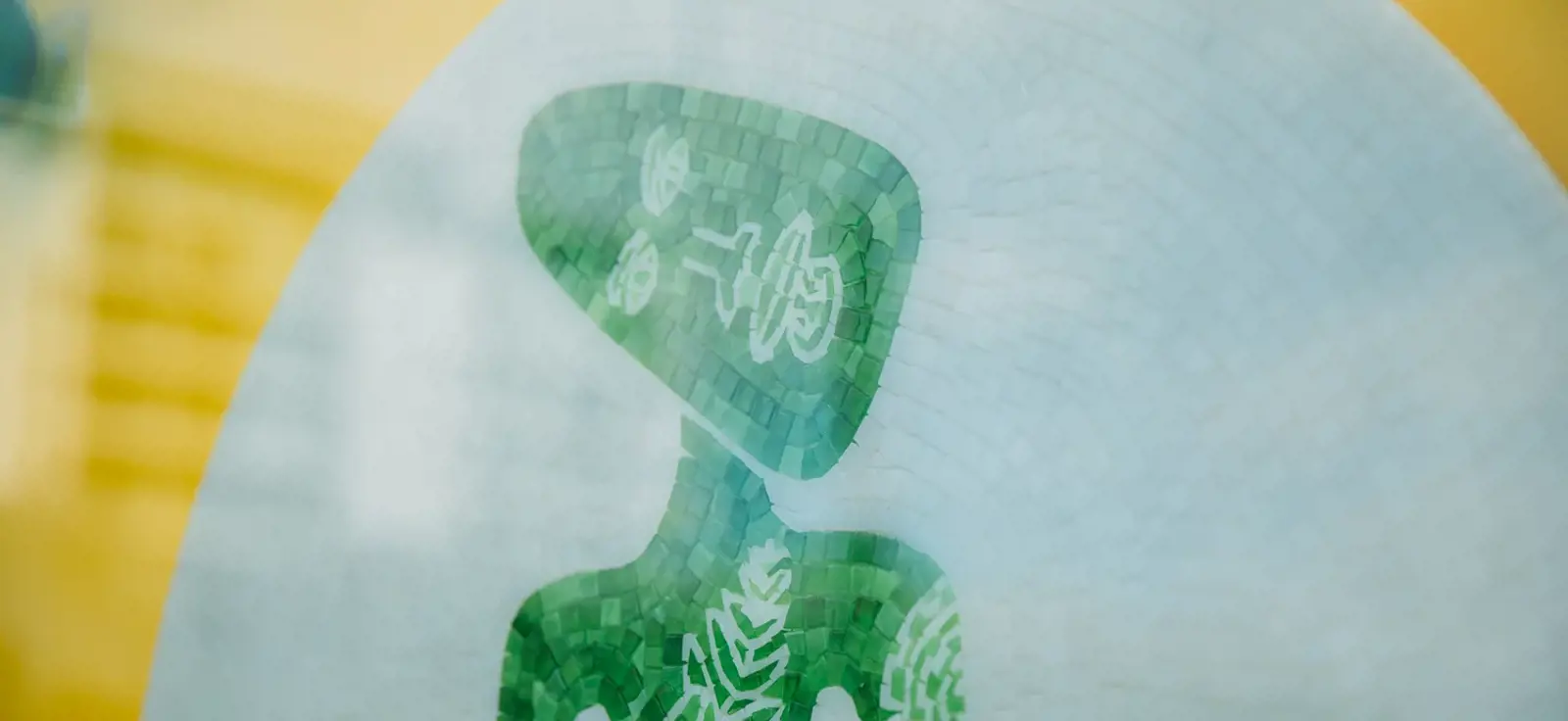 Mei Hill (Ngāti Whātua, Ngā Puhi, Te Aupōuri, Te Rarawa) is a renowned mana whenua contemporary artist who uses glass as a primary material in her mahi (work), and she has installed a piece titled 'Papatūānuku - Mother Earth' on Tīramarama Way in Wynyard Quarter.
The beautiful display features quintessential Kiwi elements such as poi and a whai (stingray). It is part of our cultural trail to showcase mahitoi (Māori art) across the waterfront, helping to ensure that tangata whenua (the Māori people) see themselves and their culture in the modern landscape of Tāmaki Makaurau.
Papatūānuku reflects the ever-changing colours of the seasons within the terrestrial and celestial realms, says Mei, influenced by the maramataka (Māori lunar calendar). The glass poi represents spiritual messengers, while the vibrant wall colour reflects the energy of Tama-nui-te-rā (the sun) and Ahikāroa, her Orākei whānau (family) who keeps the home fires burning here in central Tāmaki Makaurau.
The colour of the whai was used after Mei had often seen them gliding through the water around Wynyard Quarter.
As a way of expressing kaitiakitanga (guardianship) and artistry through her mahi, Mei repurposes materials to create "something new, something borrowed and something blue". The sophisticated and sustainable toi you'll now find on Tīramarama Way was created using glass, paper, polymer monofilament and acrylic. Papatūānuku therefore fits in perfectly with our mission to make Wynyard Quarter an environmentally friendly celebration of nature and culture.
We couldn't be prouder to have worked with Mei to bring this jewel to Wynyard Quarter – just intime for it to shine gloriously in the summer sun. See it for yourself in person soon on the side of the Willis Bond apartments at 132 Halsey, and don't forget the hashtag #YourWaterfront when you post your photo online!
To discover more of Mei's work, visit www.patikistudio.com.