Te Puna Market sprouts up in
Henderson
19 February 2020
A new fresh produce market has sprouted up in Henderson's town centre.
Te Puna Market provides access to fresh local affordable kai after the neighbourhood's primary supermarket closed late last year.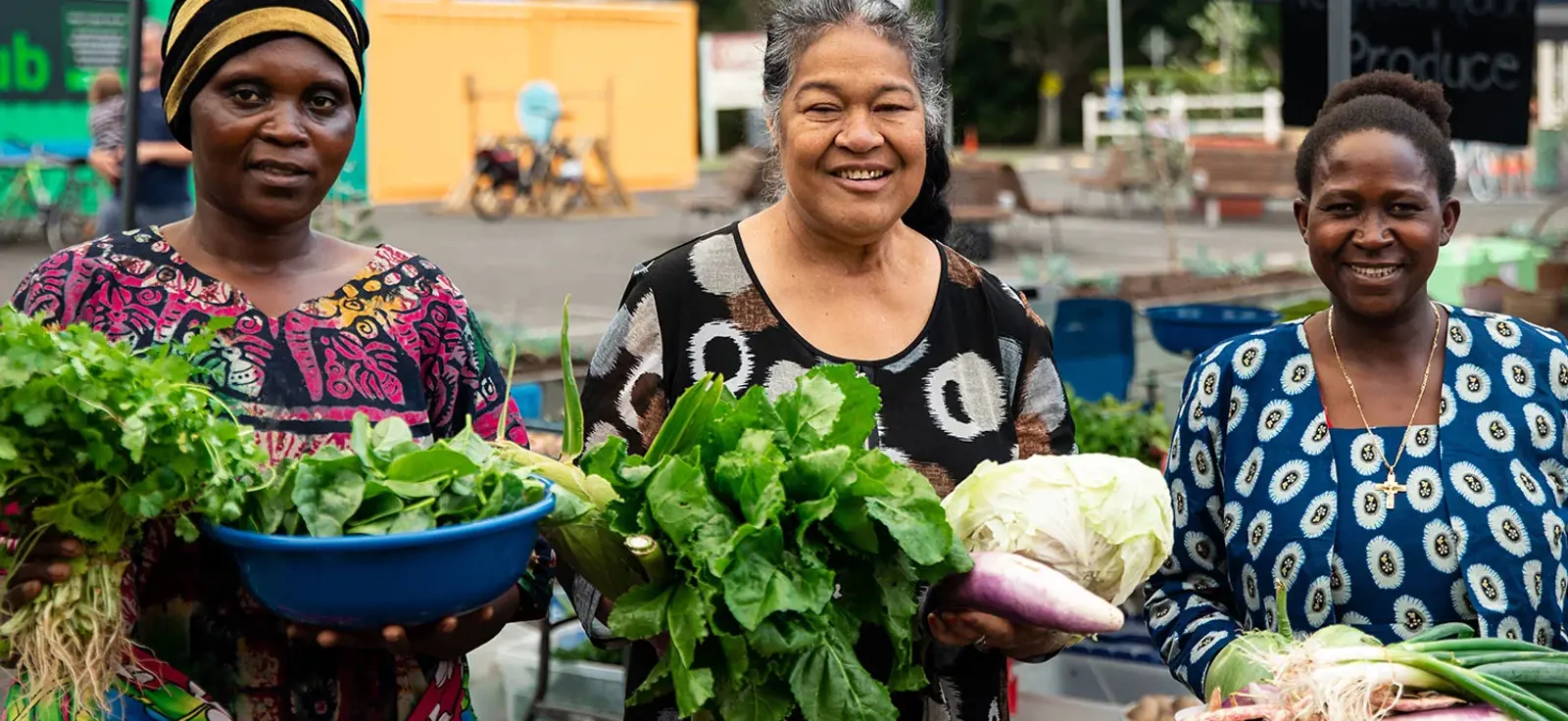 The launch of Te Puna Market last Saturday brought 20 vendors, a basket-load of good vibes and a distinctly local crowd to a car park that's not used very often. Nearly 1,000 people visited on the day, with quite a few spotted walking down the road, reusable bags in hand, to pick up fresh fruit and veges, homemade breads, pastries and more.
While it's a community-run market, Panuku Development Auckland is supporting its establishment, partnering with several local organisations based out west under the umbrella collective Kai West to help provide a platform for success.
Panuku's Head of Commercial Place Operations Connie Clarkson is excited to see the market take shape.
"The market's launch has been incredibly encouraging. Stallholders have sold out, a steady stream of people meandered through to take a look and there's been some really positive feedback so far on social media.
"What impressed me was the diverse offerings that existed amongst the stalls, how each stall took a lot of care to display their wares, how the quality of produce was extraordinary. It's exactly what you imagine a neighbourhood market to be like."
Waitakere Ward Councillors Linda Cooper and Shane Henderson say the market is a great initiative.
"Helping locals who were regular users of PAK'nSAVE get access to locally sourced food makes sense", says Councillor Cooper. 
"I was there for the first Te Puna Market and could tell that it was something that will be greatly appreciated by the community."

Waitakere Ward Councillor


Linda Cooper
"It makes our town centre that little bit more exciting", says Councillor Henderson. "Near a beautiful park, the swimming pool and the historic Falls Hotel, this will form part of a brilliant family day out in Henderson. Why not take the Twin Streams path on foot or by bicycle and enjoy this fabulous new market."
Henderson-Massey Local Board Chair Chris Carter welcomes the new market and says it will bring new options for people who enjoy local produce.
The market supports community groups to sell their goods and wares, offering stall space for a small fee alongside community groups and schools fundraising initiatives provided space free of charge.
Panuku has provided initial funding to help establish the market, and now that it is up and running, the day to day management and future growth will be managed by Kai West and the new market coordinator.
Te Puna Market is on from 7.30am until 1pm every Saturday morning in the Falls car park (16 Edmonton Road, Henderson) from now until mid-May. Check out their Facebook page to find out more.