Final stage of Wynyard Quarter innovation
precinct
04 March 2022
Over many years of planning and development, the vision to transform Wynyard Quarter into a thriving neighbourhood that supports cutting-edge innovation and commercial activity is well underway.
To achieve the goal of a Smart-Working waterfront, Eke Panuku has partnered with Precinct Properties to develop the infrastructure for a 48,000sqm innovation precinct.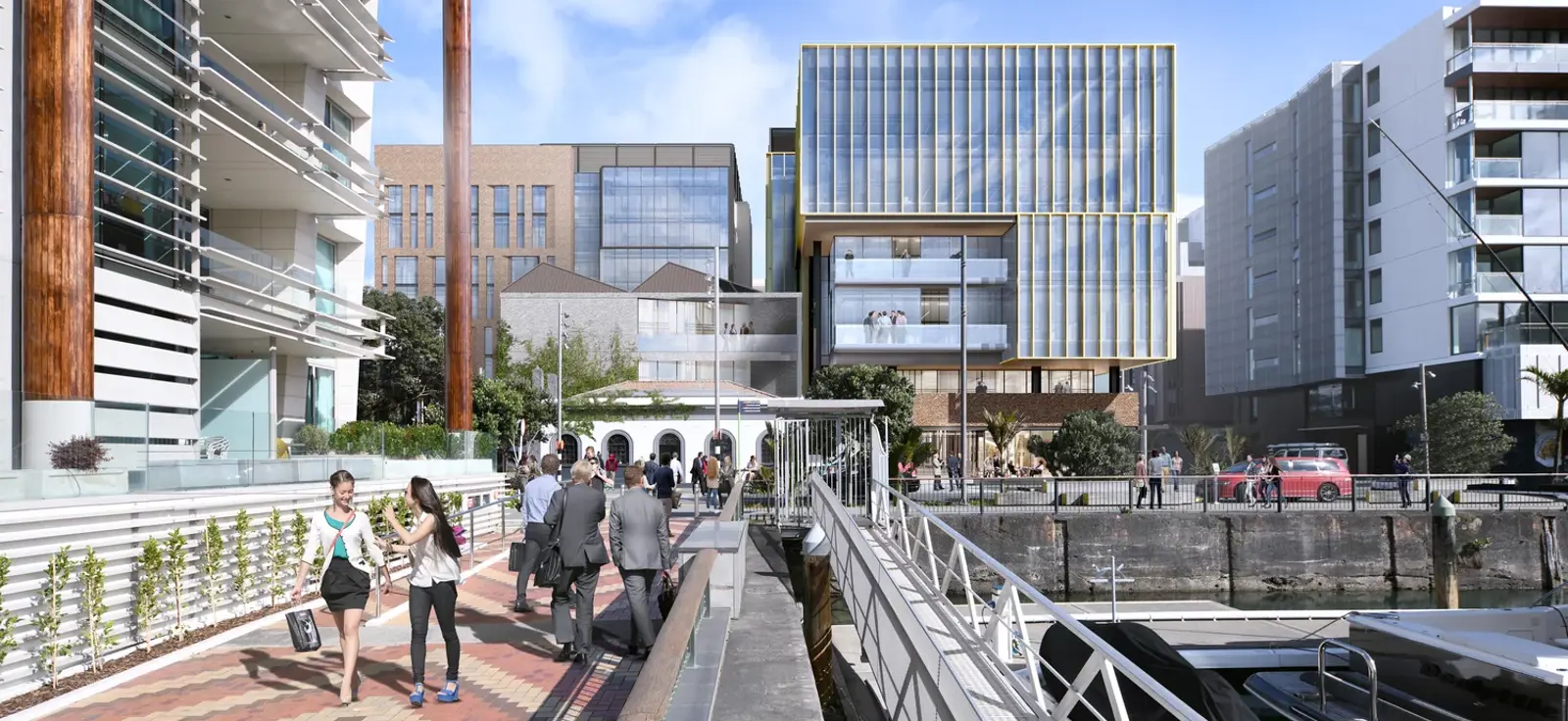 "Partnering with Precinct has been essential in achieving the vision of welcoming innovative and exciting commercial tenants to the waterfront. The success of Precinct's work in Wynyard Quarter speaks for itself, and we all look forward to welcoming the future tenants of these buildings to Wynyard Quarter in the coming years," says Fiona Knox, Eke Panuku Priority Location Director for the waterfront.
The Innovation Precinct is an area identified in the Waterfront Plan, that has been designated for commercial development. It includes several buildings that feature high quality, sustainable office space within the Wynyard Quarter block bounded by Halsey, Pakenham, Madden and Daldy Streets.
Planned to be delivered in stages, as of 2021 two of the three stages have reached completion. Now on any given day, Wynyard Quarter welcomes talented workers from all over Auckland who work across a multitude of industries, and there is more yet to come.
Building on this success, the third and final stage of the innovation precinct started construction in early 2022 and is planned for completion in 2025. This final stage will introduce three new buildings, 124 Halsey Street, 117 Pakenham Street and the Flowers Building. As well as the refurbishment of the existing Halsey Traders building.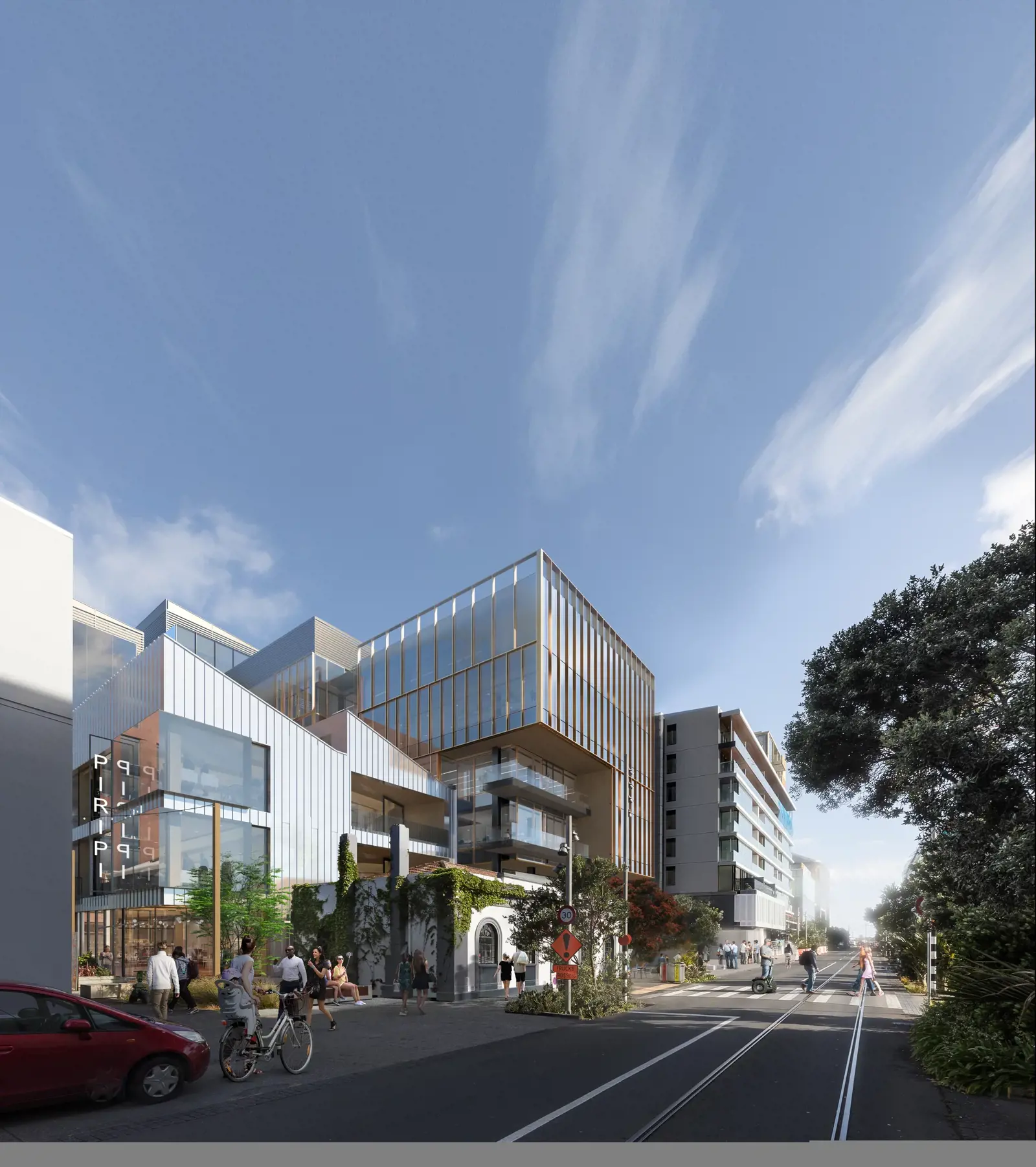 124 Halsey Street East will be a six-level building located on the corner of Halsey Street and Tīramarama Way, and 124 Halsey Street West will be a nine-level building located on the corner of Autahi Lane and Tiramarama Way.
117 Pakenham Street will feature eight-levels and have a brick façade on the Pakenham Street West side of the building, to tie in with the industrial history of the location.
Both the Pakenham and Halsey buildings will have ground floor retail space and sit on top of a two-storey basement that will house 174 carparks, showering facilities, and 196 bicycle parks. End of Trip facilities have been designed to encourage sustainable transport to and from the buildings.
The Flowers Building comprises a three-level annex to 124 Halsey. With sustainable building practice at the heart of its design, the Flowers building will boast a mass timber structure, resiliently designed to achieve 100% NBS (seismic rating).
The Halsey Traders building will undergo refurbishment including structural upgrades, whilst still maintaining its character.
Precinct is working with award-winning architects Warren & Mahoney and construction partners Hawkins to deliver the final stage of the innovation precinct, targeting a 6 Green Star rating, which measures buildings' overall sustainability and a 5-star National Australian Built Environment Rating System NZ (NABERSNZ) rating, which is an assessment of the energy used by office buildings and its tenants. As part of Precinct's sustainability focus on new developments, 100% of the carbon emissions from construction will be offset.
Once complete, the developments will offer premium office space for businesses and their employees and be at the forefront of sustainable design, with good transport links, functional streetscapes, and welcoming public spaces nearby.
"Precinct Properties is proud to be embarking on this final stage of the innovation precinct, says Alain McKinney, Project Director at Precinct Property, "Wynyard Quarter is perfectly placed in a central location surrounded by natural and public amenities, and we know the future occupiers will love being based here once these sustainably designed and state-of-the-art buildings, are finished."
Wynyard Quarter innovation precinct underway