Westhaven Marina Sweeps Up
Three Awards
07 September 2022
It was a clean sweep for Westhaven Marina at the New Zealand Marina Operators Association (NZMOA) awards night.
Held at Wither Hills Estate in Blenheim on Wednesday 7 September, around 120 people attended the night of all nights to recognise New Zealand's marina industry.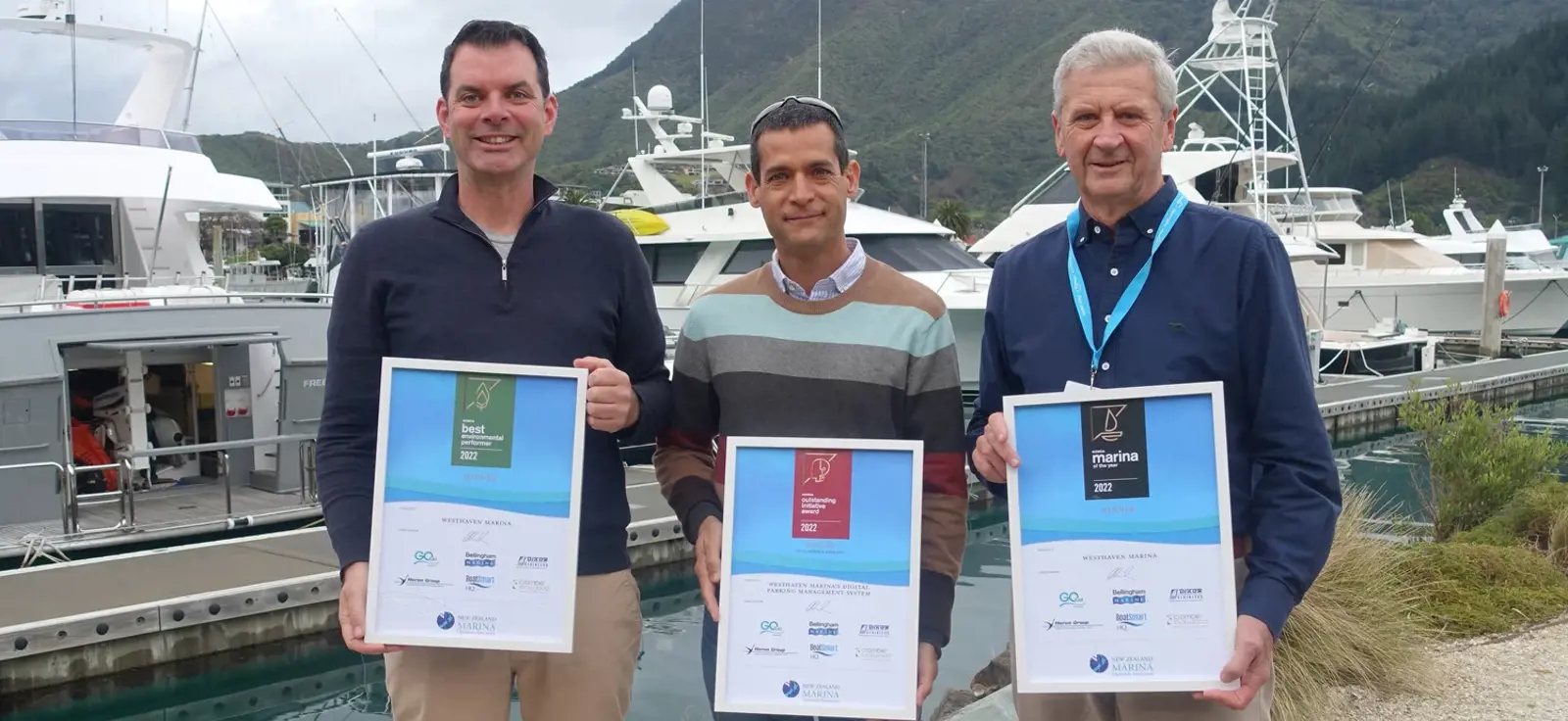 Entered in three award categories, it was a momentous achievement to come away as the winner of each. Westhaven Marina was named the 2022 NZMOA Marina of the Year, winner of the NZMOA Best Environmental Performer award, and the winner of the Outstanding Initiative category for the launch of its digital parking management system.
Pictured above with the awards (left to right): Marina Maintenance Manager, Gareth Wilson, Quality Manager Marinas, David Marginet and Eke Panuku Head of Marinas, Kevin Lidgard.
The marina also received NZMOA Clean Marina recertification, which recognises the team's efforts to minimise the impact the marina has on the environment.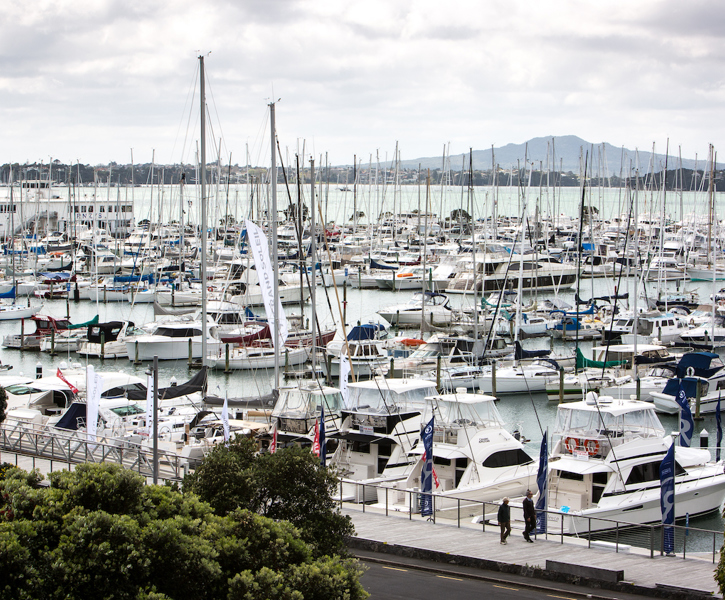 "Your team has emerged from a series of major public projects and developments, and worked in a difficult environment, to show that you are the best in New Zealand."

NZMOA Judges

Five independent judges joined a team of industry experts to judge the programme, including marine journalists and business and industry leaders. Entering the awards involved written submissions for each category and a video presentation to judges.
"Westhaven Marina, this was your year. Your team has emerged from a series of major public projects and developments, and worked in a difficult environment, to show that you are the best in New Zealand. The operational team working in the marina has been able to navigate a huge amount of complexity and disruption to achieve a superb level of customer satisfaction and to secure Gold Anchor accreditation, which you have worked towards patiently for a long period of time, along with being the country's longest Blue Flag holder, and also continuing to claim Clean Marina status."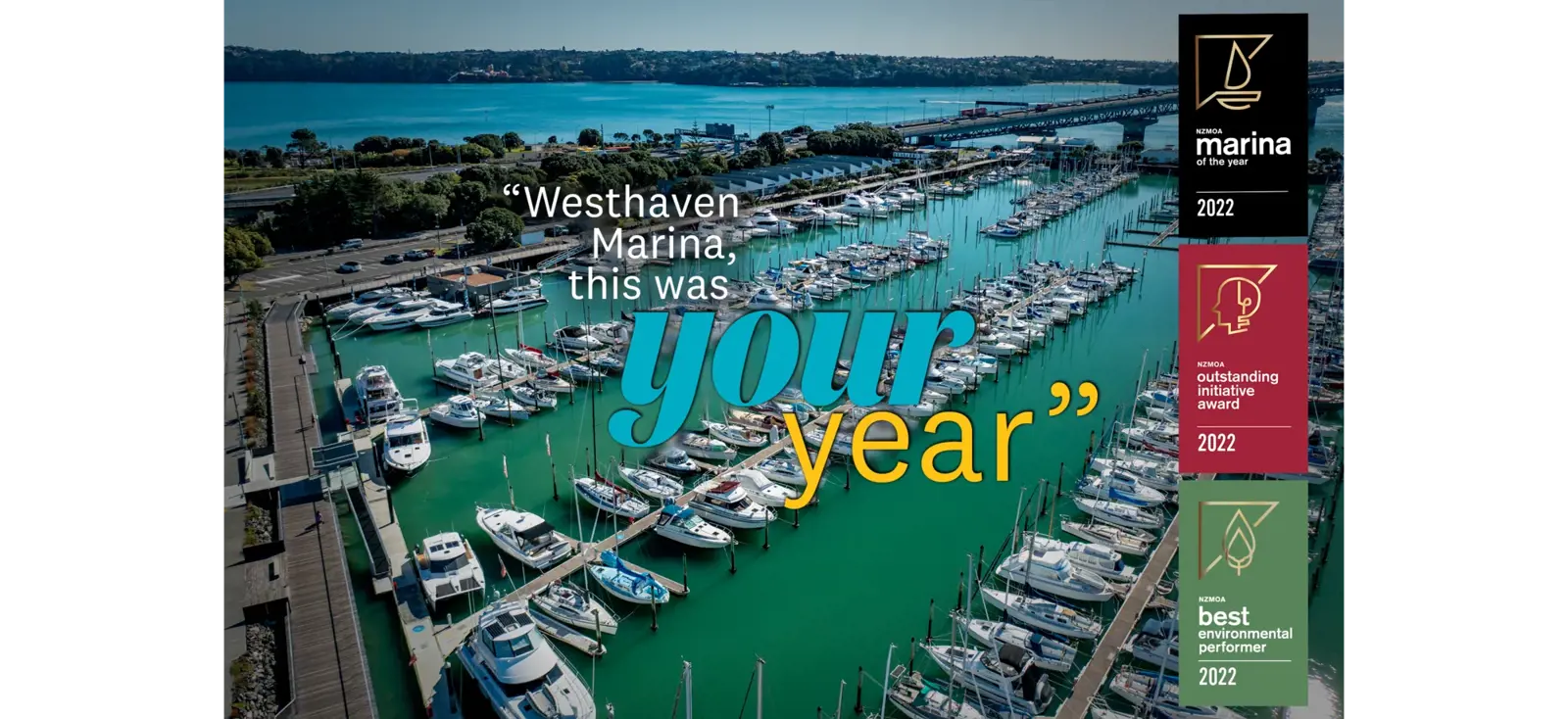 Acknowledging the digital parking system (which helps manage competing demands of berth holders, marina visitors and the general public for the 1,500 Westhaven Marina car park spaces), the judges said,
"Car parking at Westhaven was a complex problem that needed a solution. You have brought in an outside party to assist your own team to create a system that works for a wide range of stakeholders. While it's not 'glamorous', it is a core part of your marina operations. A huge amount of work went into this project, with significant input and far-reaching results, including benefits for recreation and the marine industry. Your entry was methodically explained. Well done."
Eke Panuku Head of Marinas Kevin Lidgard, Quality Manager Marinas David Marginet, and Marina Maintenance Manager Gareth Wilson attended the conference in Picton and Nelson.
Brimming with pride, Kevin says,
"These awards are well-deserved and reflect the entire team's tireless energy and commitment to ongoing improvement of the Westhaven environment and the services we offer. The awards complement our recently received Gold Anchor and Clean Marina accreditations, further acknowledging our dedication to sustainable practises and forward-thinking approach to environmental care."
Held every two years, the last NZMOA award event was hosted in Auckland at the New Zealand Maritime Museum. At those awards Westhaven Marina received the Outstanding Initiative award for the 'Load'n Go' berth and highly commended in the Marina of the Year category. Since then, the team at Westhaven Marina has worked hard to continuously raise their performance in every aspect of marina operations and management, and it is a proud moment that the marina has been recognised this year with the supreme award, of being named New Zealand's Marina of the Year.