What's planned this summer on your
waterfront?
19 January 2023
To celebrate the warmer days and lighter nights, there's an exciting programme of free events and activities planned for this summer down on your waterfront.
Read on to find out what's planned.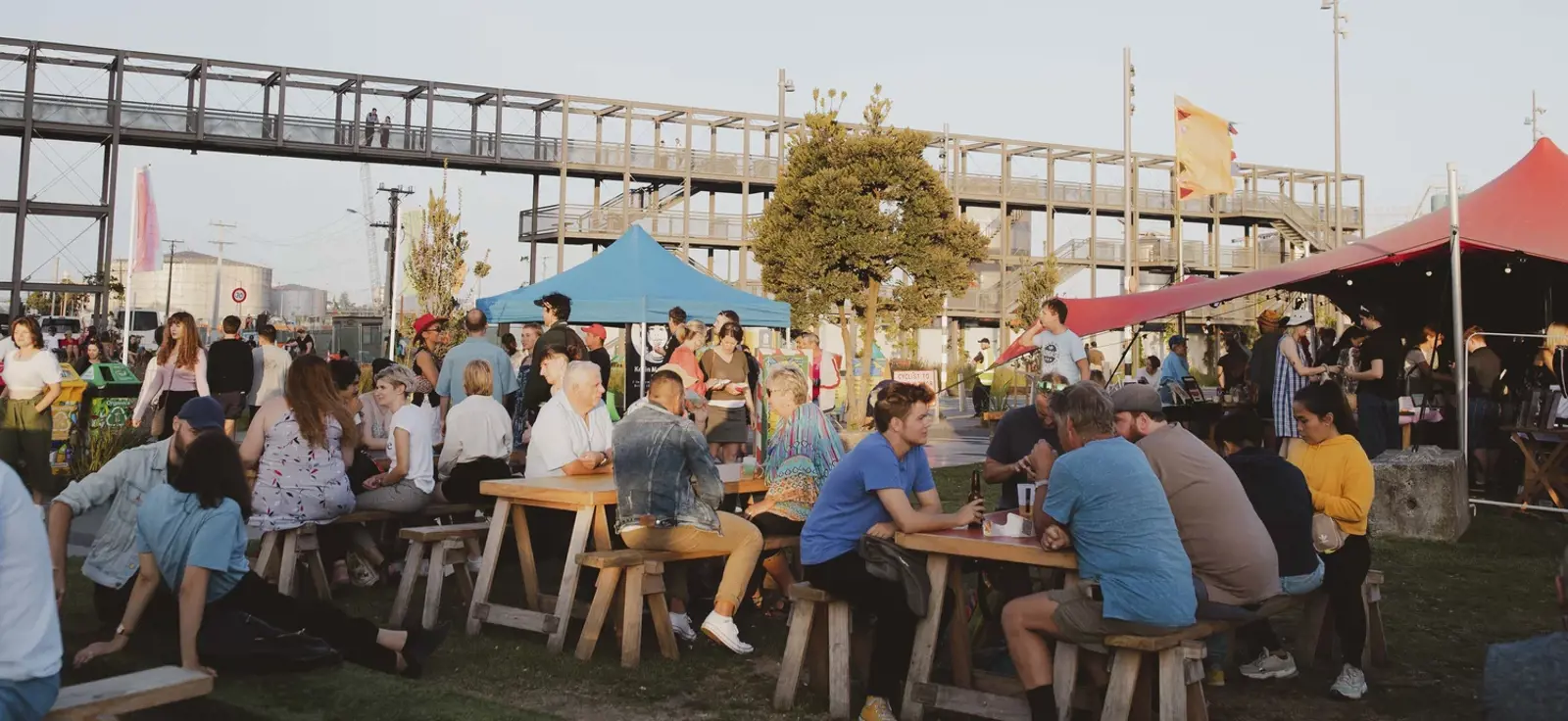 The famous Silo Cinema is back this summer after a two-year hiatus.
Silo 7 is set to moonlight as a movie screen for your viewing entertainment and Silo Park will transform into an outdoor cinema for all to enjoy for free.
Round up your loved ones, bring some blankets and cosy up. There will be food trucks, Silo Bar and a DJ on site from 5:00pm, and the screening will start at 9:00pm.
10 February 2023: Everything Everywhere All At Once
17 February 2023: Thor: Love and Thunder
10 March 2023: 10 Things I Hate About You
A humorous hunt of real-life "Where's Wally", iSpy Silo Park is a new interactive, self-guided experience for all ages.
An iteration of the popular Wynyard Quarter Scavenger Hunt from last year, we have conceptualised a new interactive activity which uses the much-loved childhood game of iSpy and transforms it into a larger, site-specific challenge.
iSpy Silo Park will have multiple levels to partake in (ranging from kid-friendly to adult focussed) and will take you on a journey to different locations around the waterfront, utilising a mixture of real-life landmarks and pop-up playful elements.
Head down to Silo Park from 28 January to take part, it will be in place for a month.
Teti Pea Pikiniki / Teddy Bears Picnic at Silo Park
If you go down to Silo Park on the 11th of March, you're sure of a big surprise…
A classic children's event loved and cherished by many over the years worldwide, Silo Park is set to hold its very own Teddy Bears Picnic on the lawn in Silo Park.
It's set to be a free fun day out for the whole family, so come on down with ted in tow, for a picnic to remem-bear.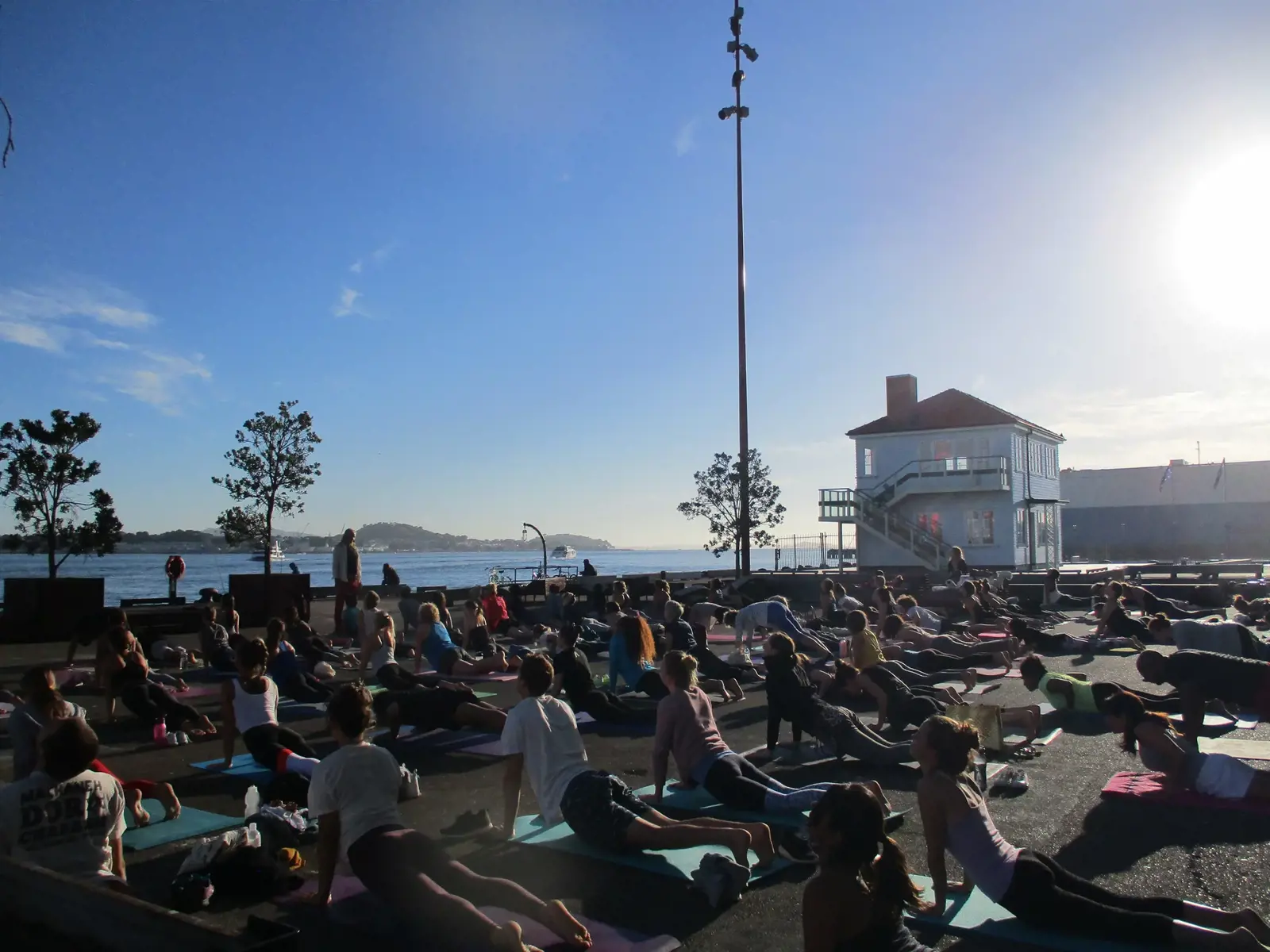 Salute the sunrise this summer with free yoga on Queens Wharf.
Start your day right with an alchemy of ancient wisdom, sea breeze and spectacular views guided by some of Aotearoa's top yoga practitioners.
Don't know your Warrior I from your pigeon pose? No worries. This yoga is for all levels of experience and is as supportive as it gets. Just come along and move your body as the sun rises.
BYO yoga mat and prepare to stretch, release and breathe your way to bliss, easing into your Wednesday morning surrounded by calming presence of Te Waitematā.
Wednesday 8 February 2023
Wednesday 15 February 2023
Wednesday 22 February 2023
Sunrise Yoga happens at the end of Queens Wharf.
Join us to make your very own wax wrap.
Reduce waste and do better by the environment at the Wax Wrap Workshop. Wax wraps are a convenient, easy way to cover food without using plastic that are surprisingly durable and long lasting. Wax wraps have natural antibacterial properties, so you can use them to cover a wide range of foods - from sandwiches to last night's leftovers.
The workshop is suitable for all ages (young people under eight will need parental supervision) - everything is provided so just turn up, get crafty and leave with your very own wax wrap.
The Wax Wrap Workshop is a drop-in format, from 10:00am - 4:00pm on Saturday 11 February at the Queens Wharf Hub.
Let us know you're interested in attending on the Facebook event page.
Bike Maintenance Workshop
Learn how to maintain your bike and this informative workshop.
Led by a bike mechanic with over 20 years' experience, the workshop includes information, demonstrations, tips and tricks for keeping your bike in tip-top working order - covering how to perform a safety check, bike fit basics, tyre care, brake safety, chains, gears and when to seek help.
The 60-minute Bike Maintenance Workshops are at 11:00am and 1:00pm on Saturday 18 February at the Queens Wharf Hub.
The workshops will be followed by a Q+A session, and if you would like to get your hands dirty and put some of your new-found knowledge to the test, the EcoMatters Bike Hub is onsite with tools and know-how, and open from 10:00am - 4:00pm.
Get crafty and join us for a tie-dye workshop. Led by serial upcyclers The Recreators, you're invited to create a colourful tie-dye creation - either bring in your own garment to tie dye, or sift through the range of second hand t-shirts available on-site.

The Tie Dye Workshop is a drop-in format, from 10:00am - 4:00pm on Saturday 4 February at the Queens Wharf Hub.
Register you interested in attending on the Facebook event page.
Head along to the Sewing Repair Workshop - absolutely free, to learn how to fix up some of your well-loved garments.
Led by sewing aficionados the Thread Room, the Sewing Repair Workshop invites you to try your hand at a range of simple sewing repair projects.
Don't have clothes in need of repair but want to give sewing a go? There will be a range of second-hand fabrics available on the day for you to try your hand at a simple sewing project including scrunchies or a drawstring bag.
The Sewing Repair Workshop is a drop in format - just turn up (with your garment if you have something you'd like to repair or alter) and we'll provide the rest - sewing machines, fabric, scissors and thread.
Saturday 21st January, 10:00am - 4:00pm at the Queens Wharf Hub.