Wynyard Quarter projects rewarded for excellence at
the NZILA awards
14 October 2022
The New Zealand Institute of Landscape Architects (NZILA) announced their 2022 award winners with Wynyard Quarter public spaces featuring in the line-up.
The NZILA awards is a prestigous industry occasion celebrating the best in landscape architecture across Aotearoa New Zealand. Held on Thursday 13 October 2022 at the Cordis Hotel in Tāmaki Makaurau, the awards coincided with the institute's 50th anniversary celebrations.
Ten projects delivered by the Auckland Council group - Auckland Transport, Eke Panuku, Tūpuna Maunga Authority and Auckland Council – were presented awards on the night. Two supreme awards, four category winner awards and four excellence awards in total.
In the category of Parks, Open Spaces and Recreation, excellence awards were presented to two new Wynyard Quarter public spaces, Amey Daldy Park and Tank Park.
Bridget Law, Principal Landscape Architect at Eke Panuku attended the awards night and says, "To receive excellence awards for two of our recently delivered public spaces in Wynyard Quarter is a really proud moment for the team. We work hard to create spaces that people will love, and it is nice to receive recognition from NZILA. It was a great evening celebrating everyone's achievements and acknowledging the changing landscape of the industry."
About Amey Daldy Park: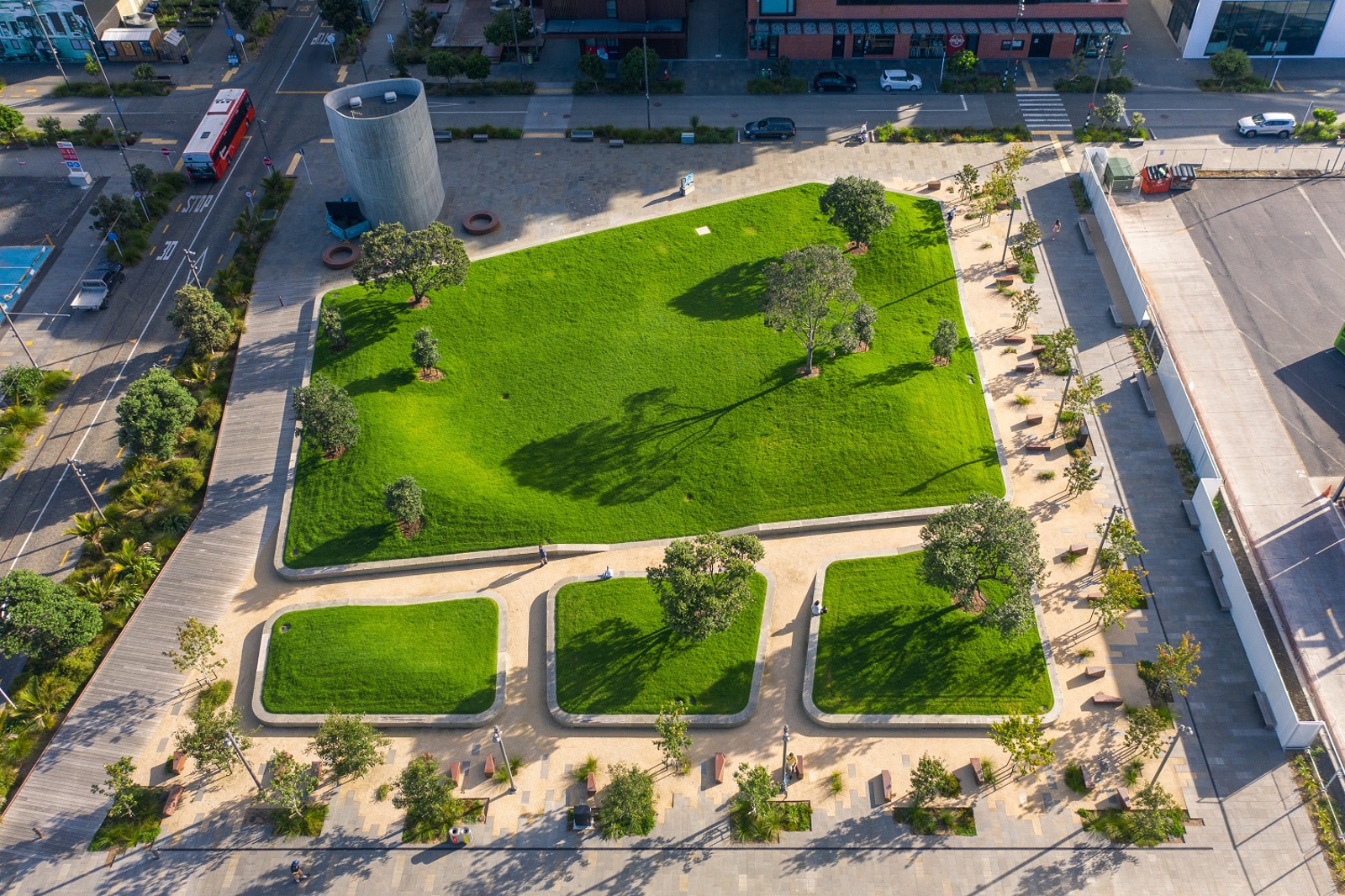 Amey Daldy Park is a neighbourhood pocket park that serves as a backyard for Wynyard Quarter's community. This project is part of the plan to create open, accessible public spaces in Wynyard Quarter - making a lively, people-friendly waterfront neighbourhood.
Previously an industrial site for storage tanks, it is now a contemporary urban park that links to the Daldy Street Linear Park - a green connection between Victoria Park and Wynyard Point.
Named after the suffragist Amey Daldy by the Waitematā Local Board, the park honours a prominent voice of the suffrage movement in Auckland. She was a woman of radical views for her age and time, who campaigned fervently and fearlessly for women's rights and for social justice.
About Tank Park:
The much-loved Silo Park community space has extended to the newly completed Tank Park. Previously a space that stored bulk liquids like cooking oil, molasses and whiskey that arrived in Auckland by ships, it is now an engaging public space that still retains a lot of its history.
Elements of its past have been retained as a nod to Wynyard Quarter's waterfront identity. Incorporated within the space are nine of the original stainless steel silos and the existing exchanger (valve) pit that all liquids used to pass through when being offloaded from the boats to the silos, and the Playline that utilises piping from the site.
Mana whenua identity is strongly reflected throughout the space's design with the key feature being a waka-inspired pavilion called Te Nukuao designed by artist Tessa Harris, which provides shelter from the elements; and the area's surface design being curated by Reuben Kirkwood – both artists are of Ngāti tai ki Tāmaki.
2022 Resene New Zealand Institute of Landscape Architecture Awards:
Parks, Open Spaces and Recreation category:
Award of Excellence
Amey Daldy Park + Daldy Street Linear Park
LandLAB
Auckland Transport, Eke Panuku, Watercare
Award of Excellence
Tank Park
LandLAB
Eke Panuku
Tessa Harris, Reuben Kirkwood
Category Winner
Maungawhau Tihi Boardwalk
Isthmus
Tūpuna Maunga Authority, Tūpuna Taonga Trust, mana whenua, and with Stellar Projects and HEB Construction.
To view all winners of the 2022 Resene New Zealand Institute of Landscape Architecture Awards click here.