Greenslade is
go!
13 December 2022
After almost three years of transformational works, Greenslade Reserve in Northcote has been given a new lease of life.
It will provide a new space for the community and visitors to enjoy while also playing a vital role in reducing potential flooding in the town centre and surrounds.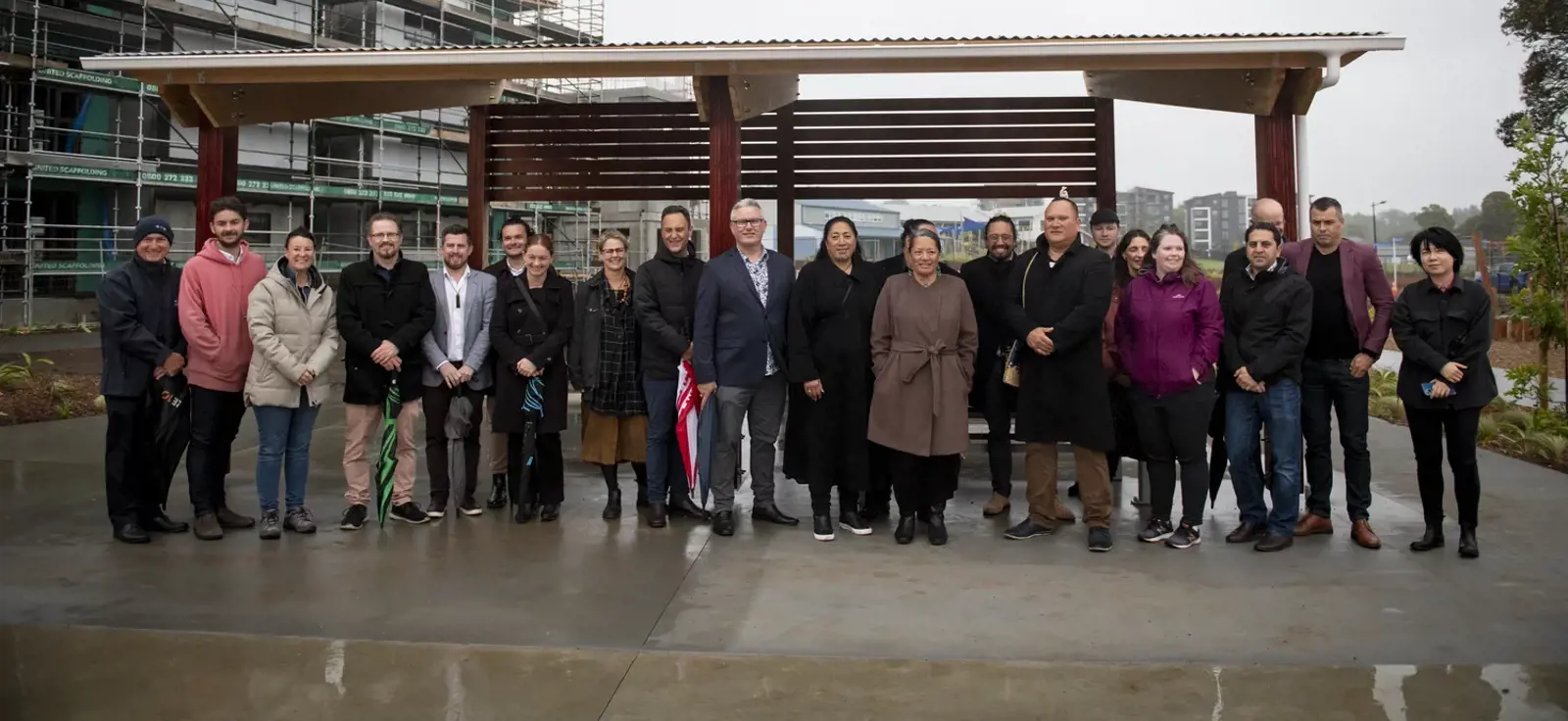 The 1.5-hectare natural expanse forms a key part of the 1.5km Te Ara Awataha ("the path of the Awataha") greenway, linking existing and new reserves with walking and cycling paths, and connecting the town centre with schools and homes.
The reserve has been closed since 2020 as the council worked to upgrade the park and bring about considerable improvements to Northcote's stormwater network.
"This work has lowered the sports field (about 1m) to re-direct stormwater flows into a new wetland. This will act as a catchment for heavy rainfall flows and serve as an urban wetland to improve water quality and drainage," says Auckland Council Healthy Waters' General Manager Craig McIlroy.
A karakia whakawātea (blessing ceremony) was held in December to mark the end of construction works for Greenslade Reserve and other key spaces along the greenway – the Schools' Edge and Cadness Loop Reserve. The ceremony also cleansed the area for the livening of the Awataha Stream to flow around the reserve and wider greenway – a historic body of water that for decades has been confined to an underground pipe.
Rather than heavy rainfall flooding the town centre, as it has in days gone by, stormwater will flow through the new greenway, which starts at Jessie Tonar Scout Reserve – source of the Awataha Stream. The practicalities of stormwater redirection are but one of the many benefits of the wider greenway project.
Since the 1950s, the stream has flowed out of sight. Built over with roads, homes, a sports field and the town centre itself, water flow was confined to an underground pipe. Running along the path of the long-hidden stream, Te Ara Awataha will bring this body of water to light.
"Alongside crucial stormwater solutions, the re-energised reserve includes the installation of a quality sports field, BBQ and seating areas for our local residents that brings an attractive, quality feature to the reserve which sits right on the town centre's doorstep."

North Shore Ward Councillor


Richard Hills
A regenerative process known as 'daylighting' will see large sections of the stream unveiled, boosting the mauri (life essence) of this body of water. Its water quality will be improved and, in addition to providing a valuable habitat for birds, insects and aquatic life, it will reconnect the community to this lost environmental taonga (treasure).
Richard Hills, North Shore Ward Councillor, says the project is the product of a fantastic partnership between mana whenua, council and government departments and community.
"It's not often you can get everyone around the table to produce an infrastructure upgrade, which brings back an awa, allows for growth, cleans up our waterways, improves our climate and provides so much local amenity as well.
"Alongside crucial stormwater solutions, the re-energised reserve includes the installation of a quality sports field, BBQ and seating areas for our local residents that brings an attractive, quality feature to the reserve which sits right on the town centre's doorstep."
Kaipātiki Local Board Deputy Chair and Unlock Northcote lead Danielle Grant agrees and says that the project will also bring many other benefits.
"It's exciting to see the many years of hard mahi come to fruition on Te Ara Awataha greenway project, allowing those who live in or visit Northcote to discover new spaces to cycle, walk, enjoy and play," she says.
The greenway will provide a connection to nature for locals and visitors alike, but the greenway will also provide a means by which people can move throughout the area, linking up homes with schools and the town centre.
Design workshops with local schools were held to gather ideas for the greenway. As a result, an outdoor classroom along the section of Te Ara Awataha that borders Onepoto Primary and Northcote Intermediate schools has formed part of the plans.
Te Ara Awataha is being jointly delivered by Eke Panuku Development Auckland and Kāinga Ora, working alongside council's Healthy Waters team, Kaipātiki Local Board and mana whenua.
"This project is the result of mana whenua, multiple organisations and the community working together to bring a long-talked-about vision for a green corridor in Northcote to life," says Eke Panuku Priority Location Director Kate Cumberpatch.
"The benefits from the project are vast. Without new stormwater infrastructure, the opportunity to build more homes and a new town centre for Northcote couldn't be realised due to flooding that's burdened the town centre and neighbourhood for many years."
The project team has been working closely with mana whenua iwi representatives and artists to ensure that Te Ara Awataha captures the unique cultural narratives and values of the place. Its design has considered a range of cultural health indicators, with a strong focus on wellbeing and creating healthy environments.
Kate added: "We're looking forward to seeing the mana whenua artwork and integrated cultural design elements introduced to these spaces in the coming months as well as new wildlife and ecological life growing and coming back to the area."
The community has been getting behind the project through the restoration of Jessie Tonar Scout Reserve, at the end of Kākā Street. Kaipātiki Project has been busy delivering the restoration of the reserve on behalf of Eke Panuku, with community members volunteering their time to assist in removing weeds, planting natives, and monitoring water quality. Since restoration began, an increasing variety of birds have been seen there including tuī, kererū, kotare, tauhou and even kākā – the first local sighting of the native bird in over 30 years.
Greenslade Reserve has reopened in its exciting new iteration while the Schools' Edge and Cadness Loop Reserve portions of the greenway will follow later this month to be enjoyed over the summer break. A community event is planned for early 2023 to celebrate the opening of these spaces and more details will be released soon.