Refreshing
Catherine Plaza
01 March 2023 - TBC
Henderson
In Progress
Urban regeneration
Catherine Plaza is a public space in the heart of Henderson and a well-used connection from WestCity Waitakere to Great North Rd.
It has the potential to become a welcoming and flexible space for locals and visitors but is currently under-utilised.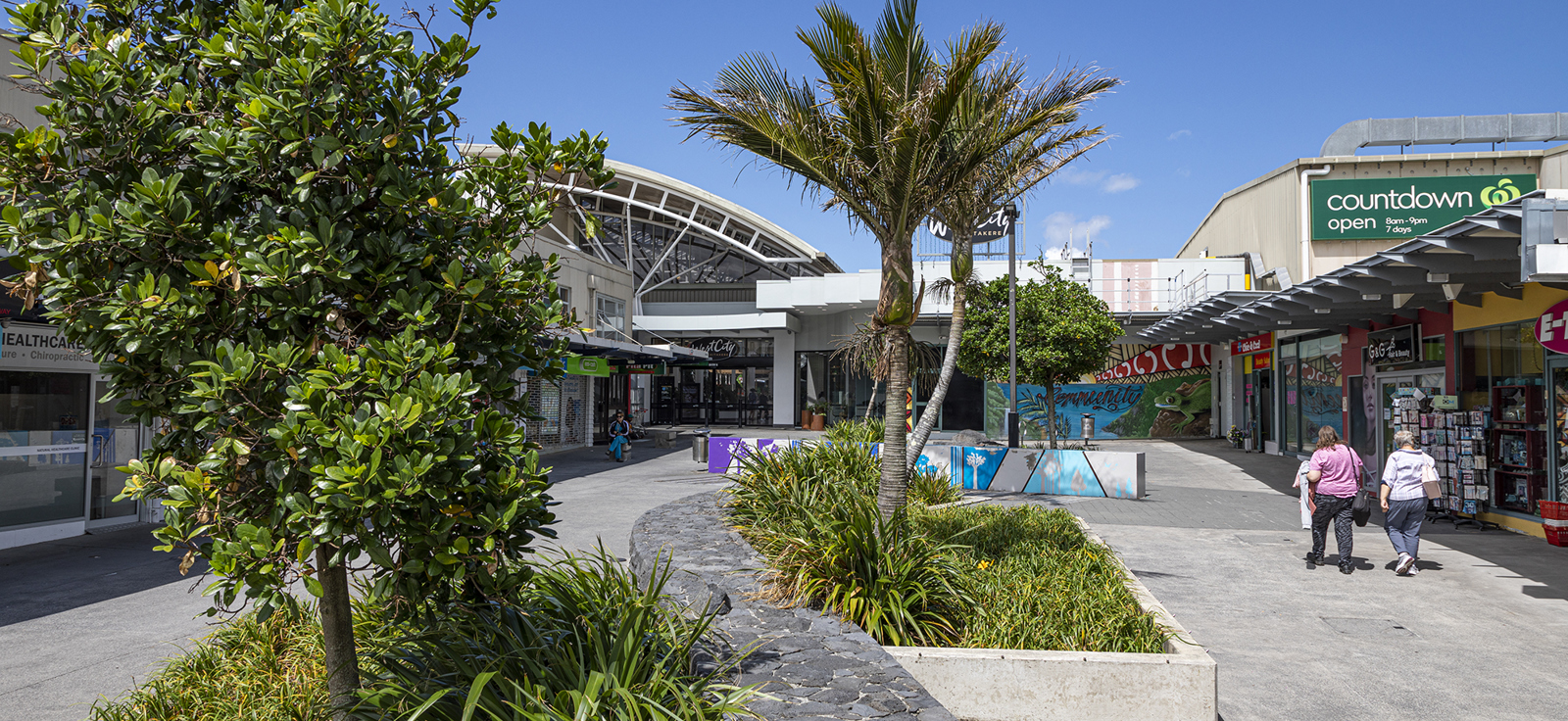 Back in the 1960's it was known as Catherine Street before it became a public space with the construction of the shopping centre. In 2008 the plaza underwent a renovation to include more landscape features such as native tree planting and low-wall seating. Since then, shops have changed or closed, and some antisocial behaviour has created safety concerns for the community. We're aware there is a strong desire for improvement to Catherine Plaza amongst locals, local board, business association and WestCity.
Eke Panuku is investing in Henderson's future by leading this project to support the growing population, local businesses and ensure a thriving town centre.
Project goals
We've developed some goals to guide our thinking on how to improve Catherine Plaza to create:
A welcoming space for all
A safe meeting point for locals
A flexible space for events
A space to accommodate outdoor dining
A public space that is unique to Henderson
What we asked people to feedback on
We've developed some design themes in the consultation material attached to act as a guide and are now seeking your ideas and thoughts to improve this space. These design themes include:
Urban ngahere - enhancing the tree cover that provides natural shading and environmental benefits
Flexible spaces - accommodating a range of uses and activities throughout the day and year
Outdoor dining – adding outdoor dining to support nearby eateries
Lighting - improving the lighting as it is essential for creating a safe and welcoming space.
We want to make sure that Catherine Plaza is a place for everyone. What would you like to see in the plaza? What do you think will make it feel welcoming and safe for everyone? 
How you can have your say
Tell us what you would like to see in Catherine Plaza by:
Attending a drop-in session on

Tuesday 28 March, 11.00am to 1.00pm in WestCity
Thursday 30 March, 5.00pm to 7.00pm in WestCity

Attending our pop-up event on Saturday 1 April, 10.30am to 2.30pm, in Catherine Plaza, 
Completing a feedback form at Waitakere Library
We held an eight week consultation which closed on 7 April 2023. We received:
118 completed feedback forms
215 comments on 'post-it' notes from two drop-in sessions and one community event day
7 emails
As well as a number of meetings and discussions with the NZ Police, Salvation Army, West City retailers, town centre retailers and local communitygroups and organisations.
After gathering the feedback, we analysed and grouped it into the following key themes:
Key Themes

Feedback received

Seating and dining

A mix of seating to sit and rest as well as for outdoor dining

Space for play

A desire to see the space activated through play for a range of ages, including children and older people

Shelter and shade

Protection from the sun and rain, particularly over seating and play areas. 

Lighting

 

Improvements to lightning for security and personal safety at night, as well as decorative lighting to make the space more attractive at night

Planting

More planting and colour to soften the space including the possibility of a water feature

Activation

Many submitters requested regular programming with ideas of markets, art installations, festivals, and performance

Unwelcoming space due to maintenance and being unclean

 

Several submitters provided feedback on the lack of maintenance, plaza appearing unclean with cigarette butts and litter, smell of cigarettesmoke and urine smell

Social problems and antisocial behaviour

Many submitters expressed concern around the need to address vagrancy, begging and to improve safety

Relationship with West City

 

Clarity around operation of food outlets within and outside the mall, and extending the West City 6pm closing time

Improvement in retail quality

 

A variety of shops to activate the space including a café/eatery to use outdoor dining
Taking all the feedback into consideration, the Design Team have developed a concept design that will refresh Catherine Plaza including: a design of the space, types of planting, materials and colours to be used to create a more welcoming space. 
On June 20th, 2023 the concept design was approved by Henderson-Massey Local Board at their business meeting.
Next steps:
Eke Panuku will now move forward with the developed design and consenting phases of the project.